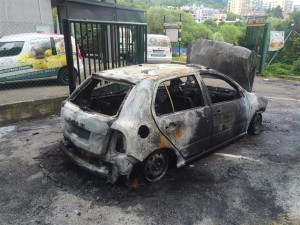 Borba Mreže Revolucionarnih Ćelija (SRB) protiv praškog restorana Rizkarna trajala je više od godinu dana. Vlasnik restorana, Vladimir Krulec, nije želio isplatiti plaće svojim zaposlenicima. Napokon je priznao poraz. Nakon pritiska SRB-a platio je dužne plaće nekim zaposlenicima koji su tamo radili.
SRB je organizirao različite sabotaže protiv restorana od marta 2015. Četiri puta su zapaljena vozila restorana. Nekoliko puta restoran je napadnut butanskom kiselinom. Došlo je i do više prisilnih evakuacija koje su dovele do zatvaranja restorana. Sabotaže su predstavljale velike poslovne gubitke. Prijetnja od novih šteta napokon je natjerala Kruleca da prizna svoj poraz. Učino je ono što su SRB željele: da isplati dužne plaće.
Pobjeda SRB-a je ishod sprovođenja u djelo. Odredili smo cilj borbe i putem direktnih akcija natjerali smo Kruleca da ga ostvari. Nismo dali prostora ustupcima. Nije došlo do posredovanja birokracije ili političara. Ni pregovora ni ustupaka da bi se pronašao kompromis. To smo ostavili drugima. Preferiramo logiku neprekidnog konflikta koji će natjerati naše neprijatelje da učine ono što mi želimo.
Bilo je i drugih oblika djelovanja prije nego je SRB počeo sa svojima. Prosvjedi, događanja, okupljanja, okupacija restorana. Sve su to organizirale druge grupe i u drugim okolnostima mogla su biti uspješna. No, nisu vodila ka uspjehu i zato je SRB započeo sa svojim akcijama. Bile su isplanirane da vrše pritisak na Kruleca. Autonomno djelovanje i korištene metode bile su osnažene okolnostima, što ne znači da predstavljaju univerzalni model za sve situacije.
Organizirana okupljanja mogu biti dovoljna za neke druge borbe. U takvim slučajevima nije nužno paliti vozila. No, kada umjereni prosvjedi ne funkcioniraju, sabotaža može biti dobar način za pobijediti u takvim borbama. A ova predstavlja dobar primjer.
Pronađimo nadahnuće i iskoristimo prednost stečenu iskustvom. Analizirajmo i iskoristimo za buduće borbe.
Mreža Revolucionarnih Ćelija (SRB) – 23. 05. 2016